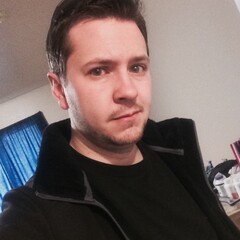 Kirt Hullinger
3D Generalist
Pleasant Grove, United States
Summary
I've been designing and building small games for several years. As such I have a wide assortment of skills including rigging, scripting, designing, conceptual art, environment design, and technical art. I specialize in 3D Modeling and Texturing, and can use a variety of programs. I'm devoted to the Game Industry but have skilled knowledge of most digital media fields including video production, graphic design, and audio. I've developed 4 unpublished games and many more prototypes. Two of these games are scheduled for release in the future. I've developed two Virtual Reality games on different systems, and am very familiar with it's pipeline and optimization requirements. I have a Bachelors of Science in Game Development and Animation. I prefer to work with others more than on my own, and have a very tenacious work ethic. Expect to see new content frequently, I'm always working on something.
Skills
3D Modeling
PBR Texturing
Rigging
Environment Design
Environment Modeling
Character Design
Level Design
Concept Design
Python Scripting
UV Mapping
Drawing
Rendering
Writing
Video Editing
Graphic Design
Motion Graphics
C# Scripting
Photography
Storyboarding
Art Direction
Compositing
Software proficiency
Experience
Student - Game Developer at Utah Valley University - Game Development Program

Orem, United States of America

I've been attending Utah Valley University Full Time for 3+ Years working solely on Game Development and Animation Programs. These projects included a Side scroll platformer, 2D Animated Film, MOBA Battleship Game, and Several Virtual Reality Games.

Video Editor Internship at M4

Herriman, United States of America

For a short time I spent some time doing various jobs for a video production company. I learned a fair deal from them and became much more experienced at many more programs than before. They had me editing rough cuts, managing audio recordings, and filming footage. I worked on three separate projects while I was there.

Athletics Videographer at Utah Valley University Athletics Division

Orem, United States of America

During my time as a Cinematographer, I would film and edit videos of the sports games at Utah Valley University. I used several programs including Final Cut Pro, After Effects, Motion, and Photoshop to make these videos.